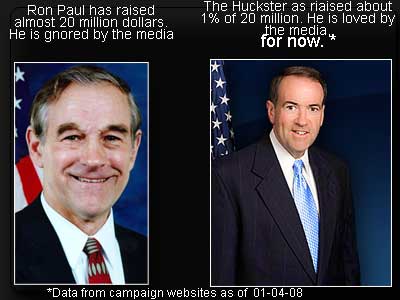 Pssst. Did ya know?
About Mike Huckabee I mean?
He's a Christian!
Of course, it was never a secret, but what has happened over the past month or so in Iowa has been a secretive ad hoc campaign of sorts between the Huckabee campaign and the media.
It goes like this:  Media goons make a big stink about any sort of religious reference say, an imaginary "cross" in a video, as if there were something wrong with that. Huckabee then plays his part by putting on airs and acting innocent, while supporters and staffers go around whining about how the "godless media" has it in for the poor Huckster. Religious "conservatives," having been primed by the constant harrangue ("Huckabee's a man of God, Huckabee's a man of God!") flocked to the polls to show those wicked media types a thing or two. Take that you godless media goons!
It worked like a charm.
I suppose someone with an encyclopedic knowledge of economics, like say Ron Paul, would see it as a classic example how disparate market forces can come together for a mutually beneficial outcome even though they are implacably opposed to one another. Make no mistake, the media DOES INDEED hate the Huckster, though not just for his religion.
Christian conservatives do politics VERY badly. I suppose the analogy of Lucy holding the ball for Charlie Brown is used a lot, but it's appropriate here. Christian Conservatives always seem to fall for some huckster coming out of the woodwork, whispering sweet nothings in their ears while ultimately failing to deliver.
The media goons are indeed hostile to Christianity, by and large, but more than that they are socialist. The primary concern the average media goonie has is to make sure that the Republican candidate is as weak as possible. That's why the Huckster is their preferred candidate, and why they were willing to play the wink and nod game with him during the Iowa campaign.
How badly does the Christian Conservatives screw up politics? Consider this, On November 6 of last year, the Christian Coalition endorsed Rudy Giuliani. Of all the candidates, including the ones in the Democrat party, Rudy Guiliani (crossdresser, serial adulterer,etc) is the LEAST likely to be considered a "man of God." Yet there was Pat Robertson blathering on about how only Rudy could defeat Hillary. The man has no clue and neither, it seems, do the rank and file of the Christian Conservative movement.
Meanwhile, there *IS* a candidate that embodies everything the Christian Conservatives claim to care about. He has been married to the same woman for 50 years, never misses a day of church, is ardently pro-life and in fact is a medical doctor who has delivered 4000 babies in his career. He has 7 children and 15 grandchildren of his own as well.
I am referring of course to Ron Paul. You would think if the media goons just wanted to bash Christians, they would have gone after Ron Paul, especially after he broke all fund raising records, yet they were strangely silent about him.
I will leave you with this: There are only TWO reasons why the media gives millions of free advertising to a candidate such as the Huckster.
1: They love him.
2: They hate him, but think he is weakest opponent for their preferred candidate.
Which do you think applies to Huckabee?