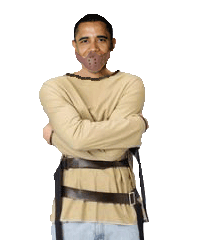 It had to happen.
For most of the election coronation, Our Saviour has been walking on water, communing with the higher elementals of the celestial plane, and making Grand Plans.
…and then came Sarah.
The Government Class hasn't handled it very well.  In fact they have handled it so badly, that even some of their own have begun to take notice.  They unloaded with both barrels on Sarah The Fair and succeeded mainly in shooting themselves in the foot.
Governor Palin has so rattled the Government Class, that one of them, His Celestial Majesty Barrack Hussein Obama called her a "pig."
Now, in defense of the comely Gov, let me just say this:
"Senator, I have known some pigs.  Pigs have been friends of mine.  Mr. Obama sir, Sarah Palin is no pig!"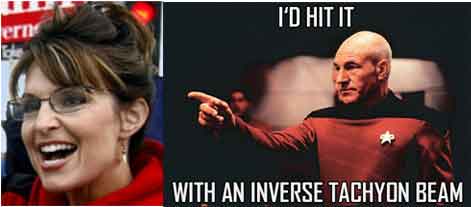 But really, the redoutable Mrs. Palin hardly needs my defense. The more interesting thing here is how quickly The Enlightened One came down off the Starship Lollypop and got in touch with his inner "Community Organizer."
It's not supposed to be like this. Even when you aren't trying to play Morgan Freeman, you are supposed at least ACT white.  The name calling stuff is supposed to be left to the VPs.  Better yet, let those losers over at the Daily Kos do it.  No one respects them anyway.
The idea is that if you "want to be impotent, you gotta look impotent."
But it's worse than that for the Obamaniacs.  Obama's porcine outburst really highlights the pathology of leftism.  An election isn't just a national "vetting" of a particular candidate, it is his whole team that must pass for review.  If there's anything clear about Obama's team it is that they really have no influence.
Where's Uncle Joe Biden?  You know, they guy supposed to give 'gravitas' to the Obama team?  Was he hiding under a table?  Checking on his Hair Club For Men stock?  Hitting on the reporter babes from MSNBC?
Actually that was a trick question.   Biden was last seen insulting Republicans over stem cell research yesterday, so at least HE has been pulling some of his weight (incidently, I agree with him on this one.)
But the larger problem is that the reason Obama became the Democratic VP is the same reason the Democrats are stuck with a candidate that sucks:  Race. The Democrats are a party of angry dykes, beta males and other assorted freaks and weirdos, but they all know that race trumps everything.
Obama is the first Affirmative Action Presidential candidate in history.  Like all AA flunkies, Obama maintains his position through a climate of fear.  The race card is ever present and anyone who dares to offend the Magic Negro quickly finds himself suspected of Thought Crimes; racist even!
So they all keep quiet and shuffle their feet and hope that Barky doesn't screw up too badly.  Unfortunately for them, it's too late and that's a good thing.  The last thing this country needs is more commie cow bell.
Now if only we could find a way for the OTHER half of the Government Class to lose.
-Ken