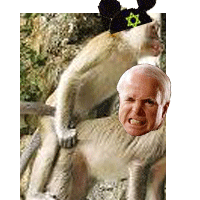 Never let it be said that John McCain is not a man of loyalty, patriotism and steadfastness. Just not for America.
The other day McCain said that "A premature withdrawal from Iraq would endanger Israel."
So who gives a rip? Well McCain does.
I suppose that kinda gives away the whole fig leave about why we went in there to begin with however. It must be quite a jarring revelation for those gentle souls, all five of them, who still think we went there to look for "WMDs." It must be even more jarring for those lefty types, ever worried that someone, somewhere is making a profit, that it never really was about oil; at least not for us.
No folks, it was about Israel.
Actually you didn't have to wait for McCain to tell you the real reason 4000 American dead (and counting) , 23,000 wounded (and counting), and 400 Billion dollars (and counting) have been wasted on this otherwise pointless conflict. Anthony Zinni, former head of Central Command pointed out back in 2004 that this was a war driven by neo-con supporters of Israel.
Actually, you didn't even have to wait for that. In 1996 a group called "Project For The New American Century" outlined how we were going to remake the middle east in pursuit of a "National Greatness" agenda. This group run by neo-cons supporters of Israel was quite adamant that "protecting" Israel was it's primary goal.
For those lefties, don't be disappointed though, oil does play a part.  Part of the neo-con fantasy is the reopening of the Trans Jordanian pipeline that once ran from the oil fields around Kirkuk to the point of Haifa.
Getting rid of a strong political competitor to Israel and giving them a source of oil and income (transit and port fees), What's not to love about that?
Oh, unless you are one of those hapless goys slated to get your face blown off by pissed off Iraqis, but who the hell cares about those smucks.  Israel is all that matters, and John McCain agrees.
-Ken