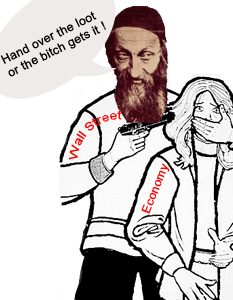 "You can't always get watchu waaant, but sometimes, you just might, get what you neeeed!"
Or so goes the Rolling Stones' song.  Listening to the Wall Street goons and their lackeys in Washington D.C. whine about the failed bailout was sure music to my ears however. It wasn't what THEY wanted, but it was what the rest of us needed.
The failure of this bailout was a tribute to the growing power of the internet.  In an earlier time, this bailout would have been a shoo-in.   Washington D.C. is a city that is of, by, and for the Government Class the rules America.  For all their populist rhetoric, both sides serve the Government Class and the rest of us can piss the hell off.
Something happend on the way to the Commie Ball though.  While the media goons puled for the bailout, with dire warnings of financial Armageddon if it didn't pass, the internet blazed with counter commentary explaining WHY it wasn't in the interest of Americans to send 700 billion dollars to Wall Street to bail out the financial maggots that hold them in contempt.
In the end, the Republicans got cold feet and decided not to support this awful plan, proving that even a blind squirrel finds a nut every now and then.
The spinning has already started and even as I write this the Democrats are explaining to their fellow travelers in the media why the Republicans are against "the working man" for not giving away the working man's money to Wall Street.
The intenet is proving to be an increasing thorn in the side of the Government Class and after the next election I predict a significant effort to reign in the unfettered commentary that now exist on the Web;  no matter who wins.
After all, we can't have people interfering in the important affairs of the day such as their financial enslavement to Wall Street.
-Ken