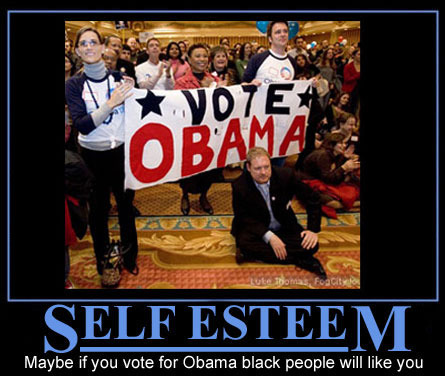 Can we get any more pathetic?
There are times when I feel like an alien from the planet Xenu, newly arrived on Planet Earth and continually amazed by the antics of these crazy humans.   Like when I was about 7 years old.
I grew up in the Bible Belt and I had a mother who was partial to the Charismatic Christian movement. Occasionally I would find myself in a church surrounded by people screaming and chanting and "speaking in tongues."  It was funny as hell (though I wasn't permitted laugh) and I remember being acutely aware of how absurdly ridiculous these people were.
I had a similar feeling yesterday watching the inauguration of Barack Hussein Obama.  People have to be on crack to think this guy has a clue or that he will 'save us!' as one silly wag bleated.
This is not to say that McCain would have been any better.  It was Tweedle Dee vs. Tweedle Dum as far as I was concerned.  But to hear the O-bots tell it, we have just been blessed by a Visitation From On High!  Mana will fall from the sky, streams will flow with wine, Disney characters will spring forth from the Magical Kingdom and sprinkle magical fairy dust all over us!  The end is NIGH and we will come again and again!
For those not lost in a purple haze of ObamaMania, here's a quick list of things that will REMAIN THE SAME under Obama.
Say hello to our 'leetle fren!' We will continue to support Israel both militarily and economically as they continue their ethnic cleansing campaign against the Palestinians.  The good news is that it will continue to piss off half the world and they will continue to look for ways to kill us in new and exotic ways.  Bio-terrorism anyone?
Kill 'em all, let God sort 'em out! Coming home?  Nope.  All you people with the "

Coexist

" bumper stickers and the other various antiwar paraphernalia, get used to the fact that "Bush's Wars" are now "Obama's Wars."  Want more?  Well as Andrew Dice Clay used to say, 'baby you got da bonus plan!' Not content with continuing 'Bush's Wars,' look for even MORE 'spreading of democracy" in such exotic locals  as Pakistan (which Obama once threatened to nuke) and Darfur Sudan.  Semper Fi!
Show Me Da Money! Sorry, Obama can't heal the sick or give sight to the blind, and he wont be able prevent skyrocketing inflation.  That's what happens when you turn on the money presses full speed and full time.  Bush started it, Obama will show him how it's REALLY done.
We got the whole world in our hands! Immigration?  Haha, that's for suckers! The leftist project of replacing the silly white people of North America with a more compliant electorate will continue as silly white O-bots eagerly give money, food, jobs, education and health care benefits to every humanoid with a pulse that manages to stumble across our borders. 

Extra point:

All those "minorities" coming here will of course be eligible for Affirmative Action benefits.  But that's ok, it will be some OTHER white kid that gets displaced, not yours.  Haha!
You want a piece of me!? All together now:  TAXES!  I had one O-bot tell me earnestly about BHO's plan to "give everyone making less than $250,000 a tax cut."  Man, I hope he got that in writing.  Here's what's really going to happen.  As congressional leaders mill about in confusion and look for ways to "pay for the tax cut" you can expect it to get smaller and smaller and smaller until the only one getting a "tax cut" will be those who didn't pay any taxes to begin with (some people call that 'welfare").  The rest of us will be told that, 'due to extraordinary circumstances….blah blah blah…you wont get a tax cut." Instead your taxes will go up.  After all, the government will need to "raise money." But that's ok, it will only be temporary (no really!)  Maybe they will give us a chance to throw rotten tomatoes at people making over $250,000 a year as a consolation prize.
As the guy on the RonCo commercial says, "But wait, that's not all!"

You wanted change? Baby we got your change!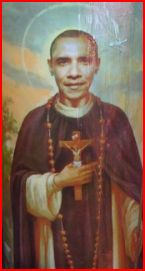 FREE HEALTH CARE FOR ALL! Why didn't someone think of this before?  Surely this will show how great the O-man is.  Finally everyone will get perfect health care and all of our problems will be solved. All medical procedures will be free.  All medicine will be free.  All dentist visits will be free.   The great thing about this is not only will *WE* get universal health care, but all those wonderful people coming to America from the 3rd world will get it too.  Isn't that great?   Repeat after me, "YES WE CAN!"
Everyone on Animal Farm is Equal! You've been volunteered baby!  This is the one I look forward to the most.  All the college age O-bots crying and screaming and blowing snot all over everything probably thought the O-man was talking about OTHER people (as they usually do) when he said he wanted to "create a civilian force as well funded as the military," but guess what kiddo?  That's YOU he's talking about!
Want to graduate from high school or college?  You'd better be prepared to do your time on the O-man's Animal Farm.  Got other plans?  Tough shit.  What are you, part of the Vast Right Wing Conspiracy or something? Quit your whining and get with The Program.

Cheer up though emo kidz, you'll probably get a cool red beret and a little red book to go along with it.
Ken
Technorati Tags: Obama, Big Government, Socialism, O-bots, Religious Fanatics, White Liberals